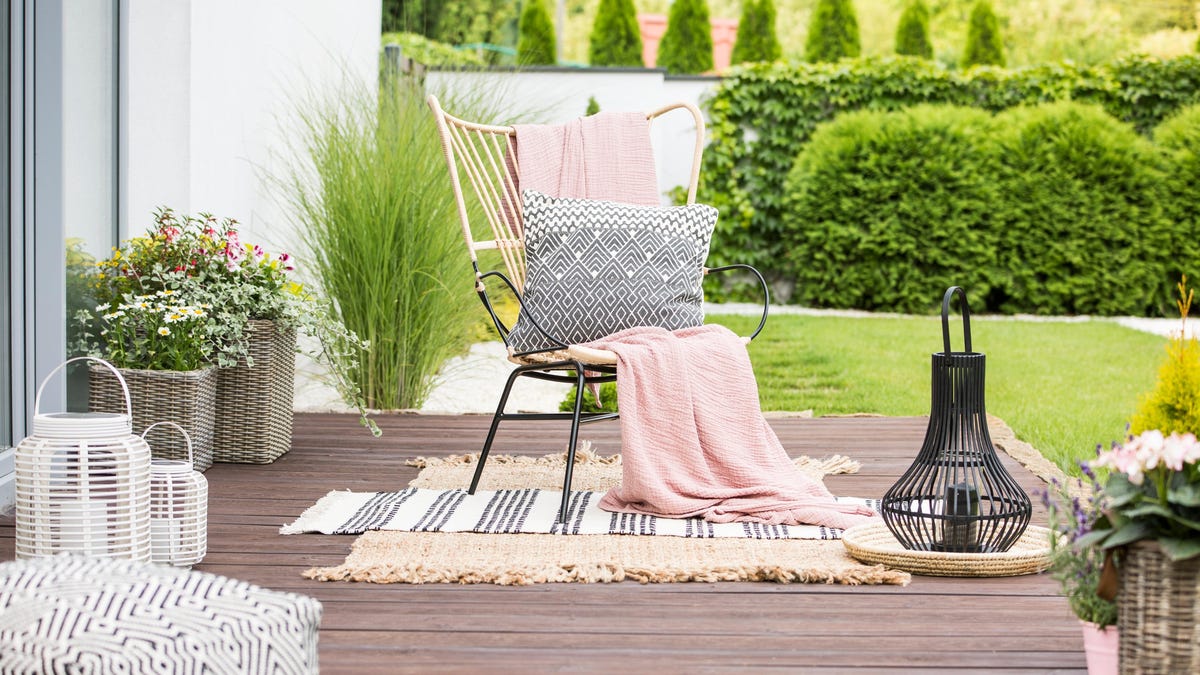 Create shade on the cheap
Shade is crucial for your outdoor space—but unless you already have an awning or pergola, it can be expensive to install. Instead, opt for a canopy cloth, which will set you back for less than $40 and can be attached to the outside of your home and secured in place with anchored poles. If you want to go an even easier route—and add a bit of a tropical feel—you could buy a beach umbrella for $20 and stake it in the grass (assuming you don't mind a hole or two in your lawn for the sake of shade).
G/O Media may get a commission
Outdoor rug to tie the space together
A stylish rug can help make any space warmer and more inviting—and the same goes for outdoor spaces. A durable (yet inexpensive) decorative rug will improve the look of your outdoor area and protect your patio, and it only has to set you back about $30.
String up some lights
Everyone loves the beer garden look, and such a vibe is not complete without outdoor string lights. Lights come in all styles, from old-fashioned Edison bulbs to regular twinkle lights, and they can be relatively inexpensive at about $13 per strand. For a more dramatic effect, you can buy a curtain of string lights for your fence or pergola for just six bucks.
Use container plants to create an oasis
When you picture an oasis, you think of lush greenery—and the easiest way to achieve that look is with free-standing plants. If a full landscaping renovation isn't in the budget, a few outdoor plants in containers will do the trick. You can get luscious patio plants like split leaf philodendron for $20 to $30 per plant. You can also create fun and cheap planters with metal basins, soil, and a bundle of plants to surround your patio or outdoor seating area for a DIY retreat that costs less than $95.