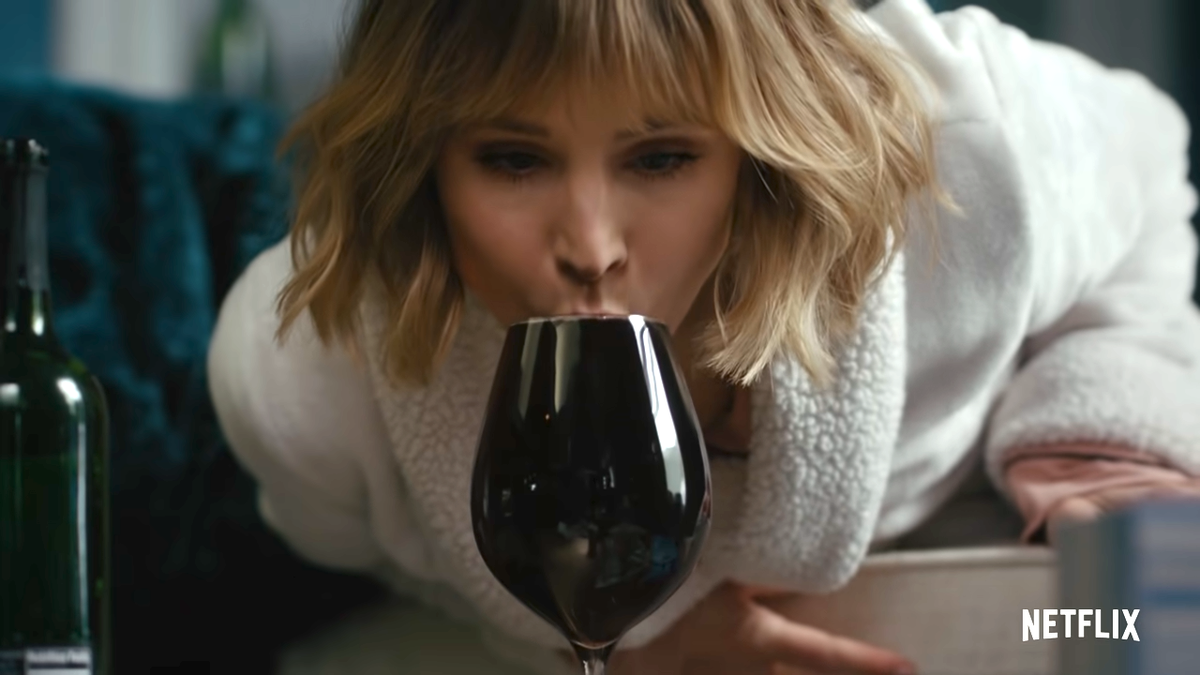 The trailer certainly seems to have the tropes down: Isolated woman in a gorgeous home (The Girl on the Train, The Woman in the Window)? Check. A protagonist with a substance abuse habit that renders them the ultimate unreliable narrator (The Woman in the Window)? Check. Lots of artfully shattered casserole dishes? Check. I don't know what that last one is from, specifically, but it's funnier every time it happens.
I honestly don't know if there is enough meat on this bone to sustain the show for even six episodes—Rear Window is a rich vein and all, but The Simpsons did it in one and I don't know that enough people bothered to watch The Woman in the Window to appreciate Kristen Bell's lacerating take on Amy Adams' woebegone Oscar-bait performance in that reviled film. But it's coming in January all the same, and you probably don't want to leave the house in January anyway.
Beyond that, the pickings are a bit slim this month. The James Wan-produced podcast-turned-series Archive 81 (Jan. 14), which takes a deep dive into the creepy filmography of a fictional film director who has attracted a literal cult following, shows promise, and a lot of you are undoubtedly excited about the first part of the final season of the Jason Bateman/Laura Linney crime drama Ozark (Jan. 21).
Otherwise, your best bets seem to be among the many new foreign series and films Netflix is importing, from Spanish-language horror thriller The Wasteland (date TBA), to to Framed (Jan. 27), and an Italian murder mystery/comedy that sounds like it is in the same vein as Only Murders in the Building.
Here's everything on tap:
What's coming to Netflix in January 2022
Coming soon (no date announced)
Arriving Jan. 1
Chief Daddy 2 – Going for Broke — Netflix Film
The Hook Up Plan: Season 3 — Netflix Series
300
1BR
Annie (1982)
Big Fish
Braveheart
Cadillac Records
Charlie and the Chocolate Factory (2005)
Doing Hard Time
Escaping the NXIVM Cult: A Mother's Fight To Save Her Daughter
First Sunday
Free Willy
G.I. Joe: The Rise of Cobra
Geronimo: An American Legend
Ghosts of Girlfriends Past
Girl, Interrupted
The Girl with the Dragon Tattoo (2011)
Godzilla (1998)
Gremlins
Happy Feet
Hell or High Water
Hook
I Know What You Did Last Summer
I Love You, Man
I Still Know What You Did Last Summer
Interview with the Vampire
Just Go With It
Kung Fu Panda
Linewatch
The Longest Yard (2005)
The Lost Boys
Midnight in Paris
Monsters vs. Aliens
Nacho Libre
The NeverEnding Story
Paranormal Activity
The Patriot
Road Trip
Runaway Bride
Scary Stories to Tell in the Dark
Stand by Me
Superman Returns
Taxi Driver
Teenage Mutant Ninja Turtles (2007)
Teenage Mutant Ninja Turtles II: The Secret of the Ooze
Teenage Mutant Ninja Turtles III
Teenage Mutant Ninja Turtles: The Movie (1990)
Terminator 2: Judgment Day
Terminator 3: Rise of the Machines
Terminator Salvation
The Town
Troy
True Grit (2010)
The Wedding Singer
Wild Wild West
Willy Wonka & the Chocolate Factory (1971)
Woo
Arriving Jan. 4
Arriving Jan. 5
Four to Dinner — Netflix Film
Rebelde — Netflix Series
Arriving Jan. 6
Arriving Jan. 7
Arriving Jan. 10
Arriving Jan. 11
Dear Mother — Netflix Film
Arriving Jan. 12
How I Fell in Love with a Gangster — Netflix Film
Arriving Jan. 13
Arriving Jan. 14
After Life: Season 3 — Netflix Series
Archive 81 — Netflix Series
BLIPPI: ADVENTURES
BLIPPI'S SCHOOL SUPPLY SCAVENGER HUNT
The House — Netflix Series
Riverdance: The Animated Adventure — Netflix Family
This Is Not a Comedy — Netflix Film
Arriving Jan. 16
Arriving Jan. 17
Arriving Jan. 18
Mighty Express: Train Trouble — Netflix Family
Arriving Jan. 19
Arriving Jan. 20
Arriving Jan. 21
Arriving Jan. 24
Three Songs for Benazir — Netflix Documentary
Arriving Jan. 25
Arriving Jan. 27
Framed! A Sicilian Murder Mystery — Netflix Series
Arriving Jan. 28
What's leaving Netflix in January 2022
Leaving Jan. 1
Leaving Jan. 5
Leaving Jan. 6
A Ghost Story
Ballerina
Dr. Seuss' The Lorax
Leaving Jan. 10
Leaving Jan. 11
Betty White: First Lady of Television
Leaving Jan. 15
Twilight
The Twilight Saga: New Moon
The Twilight Saga: Eclipse
The Twilight Saga: Breaking Dawn: Part 1
The Twilight Saga: Breaking Dawn: Part 2
Leaving Jan. 17
Leaving Jan. 21
The Shannara Chronicles: Seasons 1-2
Leaving Jan. 31
Bleach: The Entry
Bleach: The Rescue
Bleach: The Substitute
Cloud Atlas
The General's Daughter
My Girl 2
My Little Pony: Friendship Is Magic: Seasons 1-8
Mystic River
Shutter Island